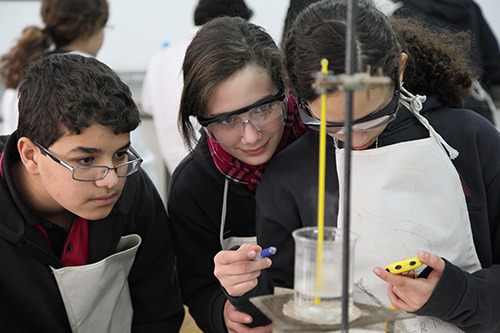 Science Labs
M.A.C. has 3 fully equipped science labs that were redesigned and converted recently to combine teaching and performing experiments in one space. All three laboratories are equipped to serve the different areas of science
Our Labs are equipped to cover:

Our labs are equipped with:
Workbenches are set at a suitable height with enough working surfaces to meet the needs of students and teachers. Comfortable stools are arranged under the benches for the use of students.

A strong suction fan is installed in every laboratory to allow for proper ventilation.

Sinks are placed at the end of the workbenches with water taps of a non-rotating pillar design.
Safety features include an eyewash facility, a fire and smoke alarm, and a fire resistant door that can be easily pushed in case of an emergency. Fire extinguishers and a sand bucket are placed in every laboratory.

Floors are made of a vinyl material that is resistant to most chemicals and are non-slip.

Special units are provided for storage of Science equipment and materials. Chemicals are stored in an adjoining room for safety.