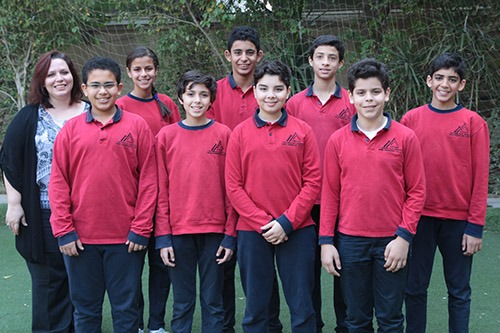 Curriculum - Middle School
At M.A.C., the Middle school program continues to challenge students academically and encourages them to read and research. Students are exposed to increasingly challenging programs that refine their basic skills and strengthen their reasoning skills and analytical thinking.
English Language ArtsMathScienceSocial StudiesFrench
This course stabilizes elementary school reading and composition skills and builds upon them as Middle School expectations are introduced. Reading comprehension is a major emphasis supported by vocabulary and literary analysis (fiction, non-fiction, novels, plays, poetry). Composition stresses sentence and paragraph structure, grammar, punctuation and capitalization, spelling and legible handwriting. Students are exposed to essay and story writing.
By the end of Grade six, students will have mastered the four arithmetic operations with whole numbers, positive rational numbers, positive decimals, and positive and negative integers; they will accurately compute and solve problems. They will find prime factors and use them in problem solving. They will create, evaluate, and simplify expressions, and solve equations involving two operations and a single variable. They will solve problems involving an unknown angle in a triangle or quadrilateral, and use properties of angles. Students will know how to use the different relations of a circle, solve problems using the formulas for the circumference and area of a circle, and compute the area and the perimeter of different polygons. Students will analyze, draw conclusions, make predictions based upon data, and apply basic concepts of probability.
Using an inquiry-based, hands-on, and research approach, this is a diverse general science course which investigates energy, ecosystems, food webs, and elemental cycles, research and lab science, biology, geology, chemistry, physics, physical science, matter, Newtonian laws, simple machines, and work. Many skills are learned in this course such as: direction following, observation skills, data collection and analysis, note-taking, study skills, organizational skills, successfully conducting experiments, carrying out research tasks, and knowing where to go to find the answers to one's questions. The course incorporates the day-to-day connections we have with science and uses a variety of teaching strategies so that all students can be successful.
This course will explore the five themes of geography and how they affect the development of an area from its history to the present. Student will become proficient in mapping skills and learn about land formations. Students will learn how to piece together how history, location, geography, and history help to define the culture of a region. The focus will be the continents of Africa, Asia, and Australia, and their land formations and waterways, as well as the historical realities of its people from the past to the present.
Learning French provides a good introduction to the customs and traditions of the French culture. Through our book "Bon Voyage 1A", we will focus on oral dialogue by practicing and applying their new language skills in a variety of life situations. This program will help the students to express themselves and communicate with others as their vocabulary and grammar skills continue to expand.
English Language ArtsMath / Pre-AlgebraScienceSocial StudiesFrench
This course will develop mastery for the seventh grade level in reading comprehension, grammar, literary understanding and vocabulary acquisition. We will be using Bridges to Literature, several different novels to be announced over the year, Go Grammar, Language Handbook, and other supplementary handbooks. Students will be given copies of Go Grammar and Bridges to Literature work books. The rest will be school copies to be used in class or taken home on loan. Vocabulary work will be derived from the reading material. Writing will occur weekly and will be reading inspired. Students will be asked to keep a daily learning journal.
This is a standards-based course in pre-algebra. Students will apply combinations of addition, subtraction, multiplication, and division to solve multi-step problems with all rational numbers. They will use the combining of like terms and the distributive property to write equivalent expressions and apply mathematical operations and properties to solve inequalities and equations, including variables on both sides. Furthermore, they will translate a linear relationship between its verbal, tabular, graphic and algebraic forms, while interpreting the meaning of x-intercepts and y-intercepts, representing a linear equation in slope-intercept form, given the slope and y-intercept, slope and a point, or two points and classifying ordered pairs as correct or incorrect solutions to a linear equation. Moreover, they will use square roots and cube roots and apply the Pythagorean Theorem and its converse to solve relevant problems. They will use the effects of dimension changes on perimeter and area of two-dimensional figures and use the effect that dimension changes have on volume and surface area of prisms and cylinders. Finally, they will calculate the probabilities of dependent and independent events and use probabilities of simple events to calculate the probabilities of independent and dependent events.
This course uses an inquiry-based approach through both laboratory and classroom experiences to ensure that the student gains an appreciation of the world of science and its many interesting aspects that present themselves to each of us every day. This course revisits many of the topics that were taught in the sixth grade year but these are looked at in a deeper and more intense way making a further connection, evaluation, and analysis of abstract ideas. The topics that the seventh grade curriculum visits include a review of the way to think like a scientist, life science, an introduction to matter, force, motion, energy, weather, and climate. Many organizational and study skills are incorporated into the course so that each student learns how to be the best student he/she can be as they learn to navigate through their learning experience here at M.A.C.
This course will explore social studies through the five themes of geography. Students will master reading a map. Students will explore climates and natural environments and earth's resources and their effects on the world's people. Students will develop proficiency in understanding the influence of geography on the particular region's people. Students will focus on the continents of North America and Europe. Students will gain an understanding into how past governments and economies influence the present ones. Students will look at the historical roots of culture. Students will also study current events and their effects on the focus areas.
This year the students will continue to use the book "Bon Voyage 1A" and to participate in oral dialogues in order to understand, read, and communicate information about their French culture around the world. Continued practice will offer them opportunities to use French with increasing fluency and accuracy.
English Language ArtsAlgebra 1ScienceSocial Studies / GeographyFrench
The Grade 8 English course is based on an integration of Speaking, Listening, Reading and Writing which will further strengthen their communication skills in English. Students will read the different types of literature (fiction, non-fiction, novels, plays, poetry) to think, write and talk about their ideas. Students will use grammar principles to communicate in writing and speaking. They will also develop their vocabulary to promote fluency. The course will also show how to write a process essay in different styles.
This course uses a standards-based approach to the study of algebra 1. Where applicable, the curriculum involves aspects of number sense, geometry, measurement, probability, and data analysis together with the algebra. Using these concepts, students will be expected to solve difficult and interesting problems. Scientific calculators will be used as instructional tools by both teachers and students. Connections to real-world and cross-curricular applications will be made. Prerequisite: Successful completion of pre-algebra.
Global Interdependence, rapid scientific and technological innovation, and the need for a sustainable environment, economy and society reinforce the importance of scientific literacy in today's world. This course is designed to help the student develop this combination of science-related attitudes, skills and knowledge. The course in divided into 4 sections: section 1: (Biology) Human Body systems and Health (body organization, different human body systems, good nutrition & healthy habits); section 2: (Chemistry) Interactions of Matter (chemical bonding, types of chemical reactions, ionic & covalent compounds, acids and bases, organic compounds ,atomic energy); section 3: (Physics) Electricity & Magnetism (introduction to electricity, electric circuits, electromagnetism); and section 4: ( Earth Science) Astronomy (introduction to astronomy, telescopes, stars, galaxies, solar system, nine planets). In addition to the practical course which allows students to apply what they learn in the theoretical part. Prerequisite: Basic principles of physical & life science.
The grade 8 Geography class is designed to familiarize the students with the Earth and how mankind impacts our world, and how the world impacts mankind, on multiple levels. This class will show the various continents on this planet and how humans have divided up the land with imaginary lines to form man-made boundaries and separate countries. The class will explore both the past and present as we look at the various climates and natural resources, as well as environmental advantages and disadvantages, of the various countries and regions on this planet. Ultimately the study of each chapter will conclude by looking at the problems faced by these individual countries, both man-made and environmental, and how these problems may best be dealt with.
This year the students will use the book "Bon Voyage 1B", which addresses young teenagers and follows the book "Bon Voyage 1A". Students will continue to learn how to speak, listen, read, and write French. Every chapter includes valuable information on vocabulary, sentences, structures, conversations, pronunciations, reading, and grammar structures. With practice, students will more easily apply rules of grammar and vocabulary when speaking and writing.