Admission Procedures
Misr American College accepts applications for students in Nursery to Grade 10. Admission will only be finalized after all relevant paperwork has been completed and received by the Admissions Office by the due date.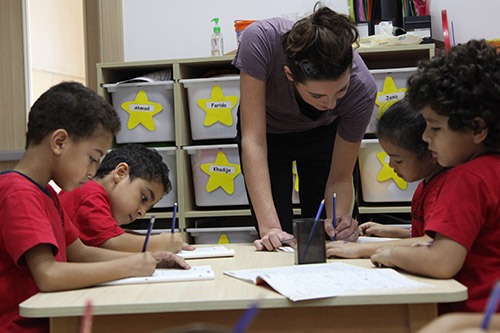 Please note that Submitting an online application does not guarantee acceptance at M.A.C. M.A.C. reserves the right to accept or decline applications at any point during the screening process.
A new student applying for admission to M.A.C. must go through the following process.
Apply by filling out the on-line application. (See below.)

Once the online application is successfully submitted, the applicant will receive an immediate confirmation email. (Please make sure to check the junk mailbox)

Within two weeks; you'll receive an email to set an appointment for a group presentation on school campus.

During the presentation you will meet the Admission Personnel who will be responsible for answering all inquiries about the school, and you will be asked to fill out a full application.

You will receive an e-mail after the presentation appointment:

(Nursery – KG.1):

Individual and Group interviews.

(KG.2 – G.10):

Conduct assessment tests in English and Math.
Oral Interviews with English teachers.

Applicant will receive an e-mail to set an appointment for a parent interview with the school principal.

Upon acceptance, the Admission personnel issue an acceptance letter and submit it by hand to the new applicant along with a list of required documents.

Admission personnel follows up with new applicant to confirm the payment of the tuition fees within one week from receiving acceptance letter.