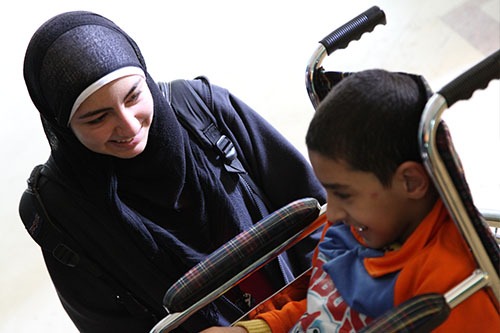 Clubs
Our clubs motivate, challenge and stimulate every child of the school. They are groomed and channeled into their field of interest through sporting and non-sporting clubs offered to them.
Our Clubs
Choir Club
The Choir at M.A.C. consists of boys and girls from Grades 2 to 6 who love to sing. The singers' voices are trained through vocal exercises; specific types of songs, both English and Arabic, are chosen, from modern to opera. We participate in a yearly event. Students have the chance to express themselves and explore their talent. In addition, they develop self-confidence and strong character which will help them on both academic and social levels.
National Honor Society
 The National Honor Society (NHS) and the National Junior Honor Society (NJHS) are the international schools network premier organizations established to recognize outstanding students. More than just an honor roll, NHS and NJHS serve to honor those students who have demonstrated excellence in the areas of Scholarship, Leadership, Service, and Character (and Citizenship for NJHS). These characteristics have been associated with membership in the organization since their beginnings in 1921 and 1929.
Cooking Club
 This is our slogan for our club. Whether you want to celebrate with friends or hang out with your loved ones, having good food enhances every occasion. In Cooking Club, we take a journey through the different culinary delights. We learn about starters, main dishes, and delicious desserts. Every week we have a new adventure and the kids go home with a nice dish to present to their parents. Another thing we learn is to avoid any hazard in the kitchen, but at the same time, not to be afraid to try new things and experiment. Lastly, keep in mind that cooking is great fun.
Helping Hands Club
 The Helping Hands Club is about promoting positive experiences for children and young people who are sick, disabled or disadvantaged. The purpose of the Helping Hands Club is to accumulate funds and property to be used and disbursed for the benefit and relief of such poor, needy and deserving persons, groups, causes, organizations and/or associations as the members shall deem worthy to receive such assistance. Supporting and enhancing the needs of children has been deemed the highest priority.
Band Club
Members of the Band Club enjoy playing musical instruments (keyboards, guitars, drums, recorders, accordions, xylophones), with an emphasis on contemporary and traditional instrumental music. One of the most obvious benefits of instrumental music for students is that you can get a better mark in music class, but did you know that making music can help you in other subjects as well? Many studies have shown that students who play music have generally higher IQ scores than students who does not play music. In addition, countless other studies have proven that music practitioners of any age are more alert, which can lead to better memory retention.
Drama Club
Drama Club is an extra-curricular activity for selected students in grades 2-12 at Misr American College. The purpose of the Drama Club is to learn about acting, dancing, play production, and stage work. We also aim to introduce children to interesting stories, characters and texts in an imaginative and unique way. As well as developing their performance skills, we seek to inspire children to read in full the stories they are rehearsing and also research the issues, settings and historical context of the works.